Description
The same tough IP67 construction as its bigger siblings and 3-year warranty gives you peace of mind that this is a serious tool designed for use in serious conditions. With an ability to easily detect animals in the 0-250m range, the LYNX is the perfect starting point on your journey to a whole new way to hunt.
When wanting a low cost unit for home security, home maintenance (be able to see leaks in your home). See rats in a barn or check on your sheep. LC06 is the option for you.
Huntsman range of LYNX thermal handheld monocular offers:
Lens 6mm
Pixel interval: 17 μm
Detector sensitivity: 35 mK
FOV 24.7 x 18.7
Detection 220m
Digital zoom: 1x, 2x, 4x
F 1.1 Aperture
Capture Snapshots & store on thermal
Capture videos & store on thermal
Wi-Fi – Hotspot – real time sharing or transfer videos/images
IP67 protection
3 year warranty
Static target ranging system
Built-in memory: 8 GB
Battery runtime 10hours approx. on single charge. Li-ION non removable inbuilt battery.
KEY FEATURES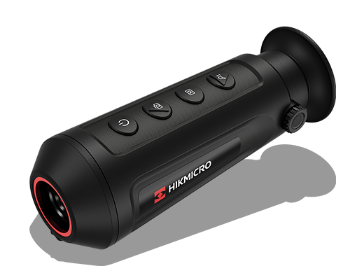 Standby Mode
Monocular supports sleep mode to enhance battery life and maximise runtime.
Advanced Image Sensor
The high sensitive 160×120 17 μm Vox image sensor offers high
quality image performance with more details.
Wi-Fi Enabled
Supports WiFi hotspot through the mobile app to have the same view with camera itself. Users can also to use digital zoom, or video recording on their mobile.
Adjustable Flat Field calibration mode
Auto Mode: The device performs FFC automatically during running time.
Manual Mode: Only hold the mode button in live view to manually perform FFC.
Background Calibration: Cover the lens cap, then hold the mode button in live view to perform FFC by background calibration.
4 Color Palettes
It can show the image with different colour palettes, with varying image treatments for different scenarios. This makes it easy to distinguish thermal signatures in a variety of environments.